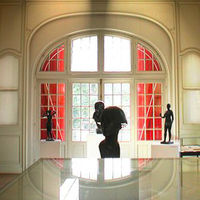 The association which was created in 1987, shortly after the museum opened, aims at sustaining its development and improving its collections as far as possible.
The friends of the museum have participated in the development of the museum with interest and conviction through exhibitions and the activities that it offers, encouraging activity, giving material and moral support and acquiring works whenever possible.
In the framework of its own activities, the association participates in national or European museum events, offers conferences and concerts, art workshops, mosaics, modelling, drawing and every summer it organizes exhibitions by young artists or lovers of plastic arts in the room of honour in the Town Hall.
Finally, every year, the association offers various walks, short and long trips and visits to exhibitions.
Membership :
By joining the Friends of Guéthary Museum:
you will actively participate in the events organized by the museum
will help you achieve the projects
enter the museum for free
You will receive an invitation for each opening
You will be informed of museum activities (exhibitions, concerts, conferences ...)
you will participate in trips that we organize several times a year
Membership form:
Contact :
Association des amis du musée de Guéthary
288 avenue du Général de Gaulle
64210 Guéthary
France

Phone : +33 5 59 54 73 28
Fax : +33 5 59 54 73 28

email : amg@musee-de-guethary.fr