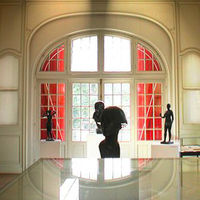 A Museum of Fine Arts in the Basque Country dedicated to G. Cl. Of Swiecinski
The museum of Guéthary was created on the ground floor of a splendid, early 20th century, neo-Basque house, the Saraleguinea villa, in the fifties, to house the donation of the sculptor Georges Clément de Swiecinski. These funds, which can be seen since 1985, include sculptures, ceramics and numerous drawings. The Saraleguinea villa stands in the heart of a magnificent and charming park, with sculptures by Claude Viseux, Dominique André and mosaics by Michel Duboscq.
Roman remains of the 1st century on the Basque coast
In 1984, some Roman remains were discovered in Guéthary station and subsequent excavations revealed the existence of a salting factory dating from the Roman Empire. The archaeological finds of the museum include specifically an exceptional funerary epitaph, unique in the south of Aquitaine.
Manuscripts and original editions of Paul-Jean Toulet
The museum's collections also include original editions and objects belonging to Paul-Jean Toulet, as well as part of the correspondence of the Bearnaise poet who lived in Guéthary during the last years of his life.
Stories of a Basque village
The museum also offers, through the work of G. Cl. De Swiecinski, a walk through the « stories of Guéthary » , stories of men and traditions which have shaped this village, a village of fishermen and farmers transformed thanks to the sea Baths, into an elegant and attractive spa resort.
Contemporary Art in the Basque Country
Finally, since 1985, interested in supporting the artists of its time, the museum of Guéthary organizes exhibitions of contemporary art, painting, sculpture and photography from May to October.
Practical information:
Rates
Entrance : 2 €
Children under 26 and Friends of the Museum: free
Groups (minimum 10 people): 1 €
Members of the Association of Friends of the Guéthary Museum - Free
Free admission on the third Saturday of the month
Disabled access (access ramp - parking on the fronton)
Schedule
May, June, September, October: Every day except Tuesday, Sunday and public holidays
2pm/6pm

July, August: Every day except Tuesday and Sunday - 10am/12pm - 3pm/7pm
Closed on July 14 and August 15
Contact
Musée de Guéthary - Parc municipal André Narbaïts
Maison Saraleguinea
64210 Guéthary

Director of the museum : Jacques Dupin
Press contact (Anne Deliart): +33 6 82 87 78 90
Museum phone number: +33 5 59 54 86 37
Town Hall: +33 5 59 26 57 83

E-Mail: musee@guethary.fr

Access map
Handicap access
By the entrance of the condominium Saraleguinea, parking on the pediment of the museum.
A ramp allows access to the main hall